"This is peacebuilding!" said Kamal Janaka Rathnayaka, our local coordinator, with a smile on his face as we observed our laughing and chatting participants in front of their accommodation. This thought was shared by the community policeman H. Premathilaka, a strong supporter of our project in the District of Ampara: "VisAbility´s workshops were very helpful to build up a connective sense and a fraternity among people in Sri Lanka who have suffered from ethical struggle. I saw the connection, teamwork, bond and love between people with and without disabilities in the workshops."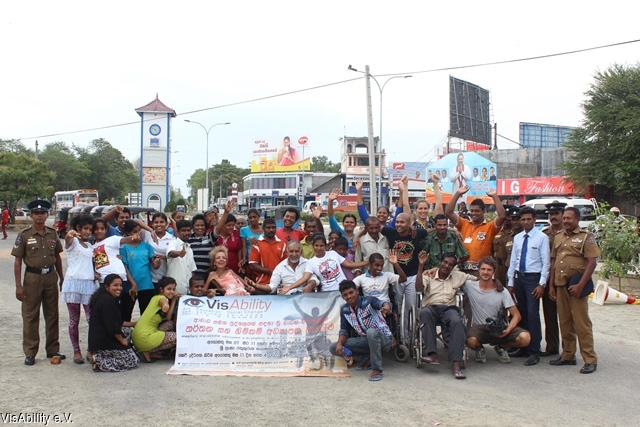 What had happened? For the first time in our pilot project "Making Ability Visible", VisAbility had managed to peacefully bring together former civil conflict parties of Sinhalese, Tamils and Muslims. Since many of them came from remote, isolated areas around the city of Ampara, VisAbility rented a house to facilitate and assure their attendance. Thus, people had to live and work together for the period of our workshops. None of the participants, including Sinhalese members of VisAbility´s team, had experienced positive social and cultural exchange of this kind before. They admitted to having had mixed feelings concerning "the other" group when they first came together, but, in the end, these doubts were washed away quite quickly.
Getting together
In the District of Ampara, we took a different approach to inviting people with and without disabilities to our workshops: in the form of Mr. H. Premathilaka, we received support from the community police of the city of Ampara. He accompanied some members of VisAbility (Mahesh Umagiliya, Gerda König and our film maker David Schmenger) for one day to several Sinhalese families with disabled members (youngsters and adults). In some cases, according to the choreographer Gerda König, it took much effort to convince parents not to hold their children back at home but rather to give them the chance to go out and experience something completely different. Unfortunately, we have had to overcome this kind of barrier very often due to the following reasons: Firstly, parents are overprotective of their children due to bad experiences or news heard in the media, and thus decide to keep them at home. Secondly, parents tend to support the "normal" family members who are more likely to make their life independently. Finally, they see it as "useless" to allow their children to attend any kind of training as they perceive their children themselves to be "useless".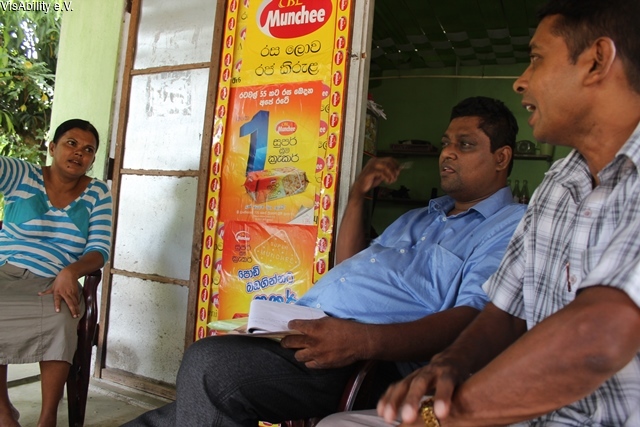 At the same time, Helena-Ulrike Marambio and Nirma Karunarathna went to some Divisional Secretariats in Tamil and Muslim regions to personally invite people with disabilities and social welfare officers, through the corresponding Secretary or Assisting Secretary. Our invitation was officially supported by the Government Agent (GA) of the District of Ampara and the District Social Welfare Officer. Both activities turned out to be successful: We had 25 participants with and without disabilities from three ethnic groups. Those who could not arrive by themselves were picked up by two team members. When Sebastian Potthof and Janaka, our treasurer and local coordinator, arrived in the Tamil-Muslim village Akkaraipattu to pick up the 65-year-old Aboubakar Taslim, who lost his legs in a bomb explosion, he welcomed them with the words: "I can dance! Take me with you."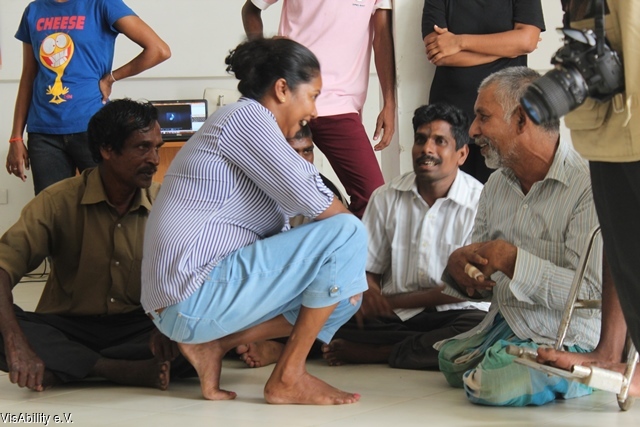 "
Dance? What is this?!"
At the end of the mixed-abled dance workshop, most participants recognized that they had had some doubts about our project. When Helena spoke to those participants who had been told about the project by social welfare officers of the Tamil and Muslim areas, they likewise admitted to have thought: "Dance? What is this?! How can I dance? I will go there and check it out. If it is not working, I come back." They could not imagine themselves as capable, well-performing dancers. However, these thoughts gradually disappeared due to the teaching methods of the choreographers (Mahesh and Gerda) and their assistants (Praba Jayasinghe and Danushka Nuwan Kaldera).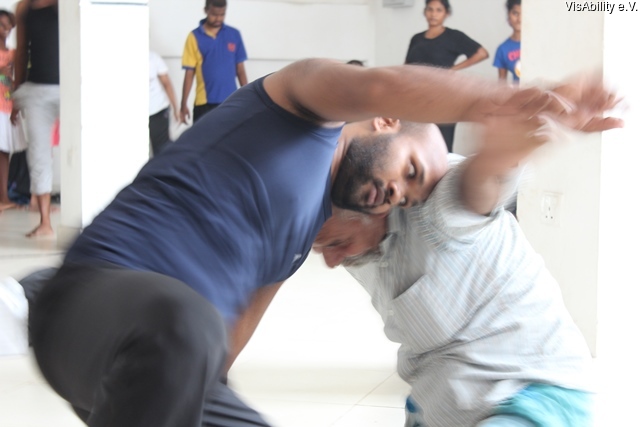 All together, the group was highly motivated and supported each other in order to fulfill the tasks. For several participants it was the first time that they had taken part in a training program. Amith, for example, a young man in a wheelchair, seemed to be insecure at the beginning of the mixed-abled dance workshop. He always stared at the floor. "We constantly reminded him to look us into our eyes", remembers Nuwan. Eventually, Amith looked up by himself, smiling at us. All in all, the workshop increased self-confidence and transmitted positive energy to the people.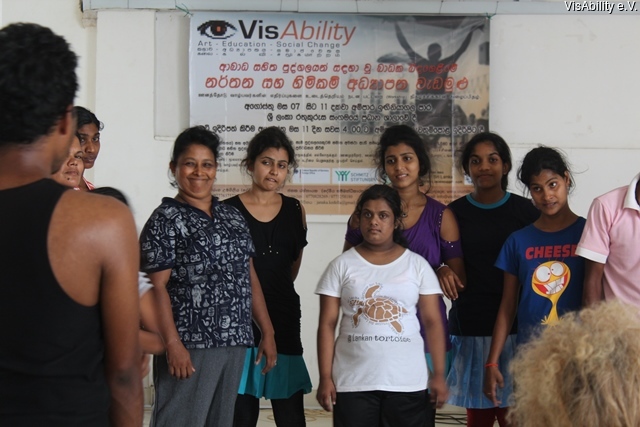 Like Siriyalatha, a 41 year-old woman, most of them were struggling with their physical appearance: "Through your workshop, I came out of the darkness. I found my life useless." In terms of the communication between the ethnic groups, Sinhalese, Tamils and Muslims easily overcame the language barrier thanks to good team spirit and progress made as a dance group. The dance assistant Praba reflected: "We could not communicate between each other because I don´t speak Tamil and they don´t understand Sinhala. Dance was the only language possible."
The workshop took place at the building of our cooperation partner, the Sri Lankan Red Cross Society, in Ampara. The organization also assigned five volunteers (Sinhalese and Tamils) to the workshops to actively take part in the project.
Flashmob and Public Performance
Thanks to the great interest of journalists at a press conference two days before the start of our project in Ampara, people had gradually become aware of our work through the newspapers. Conversations with three-wheeler drivers, for example, revealed that they had heard about us.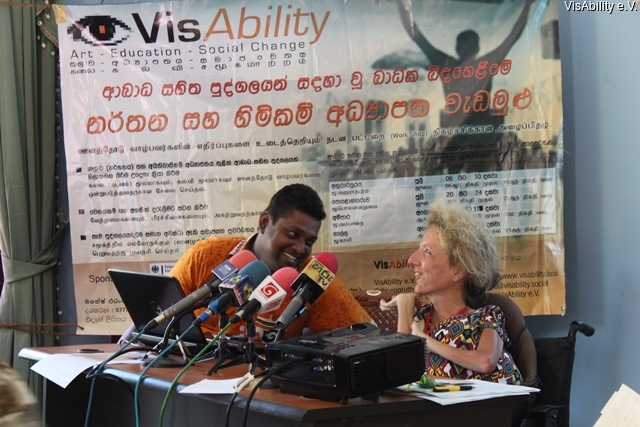 As before, we had presented our project aims and teaching methods to the media. With the parliamentarian elections only a few days ahead, VisAbility repeatedly pointed to its concerns regarding the abuse of governmental funds and facilities for people with disabilities during the election process.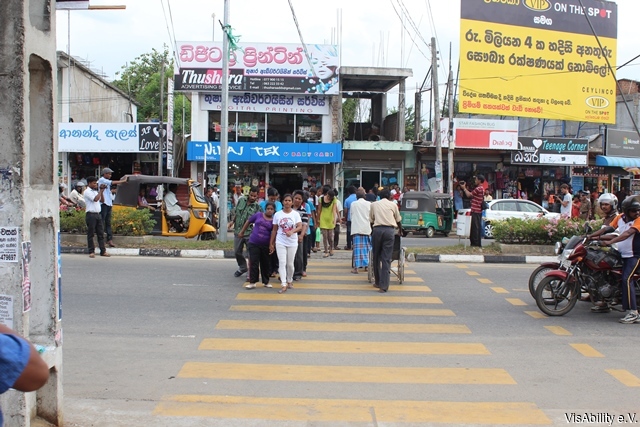 On the last day of our workshops, we opened up the public dance performance with a flashmob on the main road in the center of Ampara during rush hour. From three different directions, people with and without disabilities approached the zebra crossing, each group imitating one of its participants with disabilities and continuously walking from the left to the right side. Through the performance, people with and without disabilities appeared to be equal. The idea worked out well. Pedestrians, motor bikes, three wheelers and cars stopped and observed. Businessmen came out of their shops and others started to film the groups. Some of the people in the audience asked themselves: "Are they really disabled or are they only doing so?"
The flashmob then introduced the public performance to the bus station in Ampara, slowly walking there from the zebra crossing. They were accompanied by some of the audience, as well as by community police officers who supported the event by providing transport facilities for the wheel chair drivers.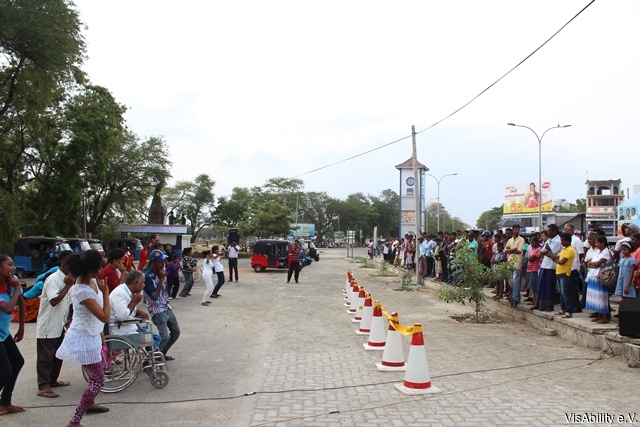 The performance was quite successful; people were very interested and asked us later on how it was possible to include a blind person (another local coordinator) in the group. The performance was repeated at the District General Hospital in Ampara at a time when visitors were arriving.
"
Now I know my rights"
The Disability Rights Workshop in Ampara was attended by 62 people (parents of people with disabilities, people with and without disabilities, officers from different regions and Red Cross volunteers).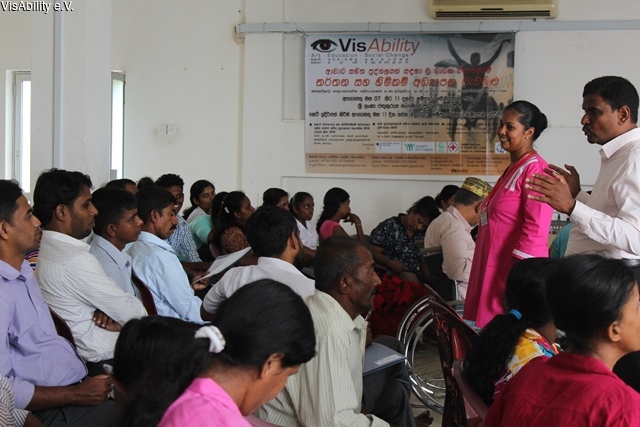 Before it began, VisAbility did a survey with parents of and people with disabilities in order to get a better sense of their rights knowledge and general awareness about the financial aids and facilities they are entitled to obtain through the Sri Lankan social welfare system.
In terms of sharing knowledge in both directions, the workshop seemed to be successful. However, it revealed additional barriers that hinder poor people to access governmental benefits and facilities. A good example is the conversation between Siriyalatha and an officer in a tea break after the disability rights session. Siriyalatha recognized her officer from the corresponding Divisional Secretariat. She took a chair and placed it next to him. "Look, officer", she started, "now I know my rights, I know the laws. When I come to your office, you have to work for me." The officer seemed to be a bit perplexed and replied: "Ya ya, come to my office, I will cooperate." Everything seemed fine, until she pointed to a crucial issue: "Officer, I have to tell you that I do not have the money to come to you." High poverty means that many people, like Siriyalatha, are unable to apply for any governmental support. It is for this reason that VisAbility is advocating for constant effective mobility services to be provided to affected families by social welfare officers.