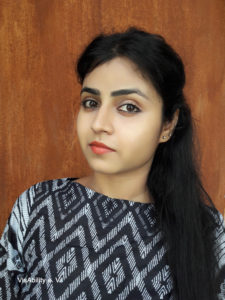 Nuwanthika Sewwandi was born in Sri Lanka in 1993. Her interest in the performing arts was inspired by her father, a folk theatre practitioner from Ampara, who introduced her to Kandyan dance. Kandyan dance is one of Sri Lanka's dance forms that has been used in folk theatre. 
As a young woman, she started to act as an artistic member of the Ranamayura Arts Association under the supervision of her father. Until 2010, she had different roles in his folk dramas, like 'Sulochana' and 'Chapala Sthriya'. To refine her acting skills, she joined 'The Actor' drama school at the 'Centre for Folk Art' in Colombo in 2011. 
Given her strong interest in dance, she also initiated her studies to become a professional Kandyan dancer. In 2007, she passed the Initiation Ceremony. Three years later, she started to volunteer as a dance instructor in 'Sarana, an orphanage for children with disabilities. Later, she offered dance sessions to elderly women in her village as well. Based on her gained knowledge and skills in the artistic scene, she established her own dance school 'Wasana Swarnahansa' in Ampara in 2013.
In 2015, she took part in VisAbility's workshops in Ampara and moved to Wattala later. She continued to volunteer as a dancer/ performer and logistic assistant. Five years later, she became a full staff member of the dance and logistic department. 
Beyond VisAbility, she supports Mahesh Umagiliya's dance company 'Meranga Fine Arts Ensemle' in the logistics and as a dance instructor. She has also performed in his mixed-abled piece 'Lichid Air' (2015) and 'Sanni' (2017). In 2017, she was the main character in an award-winning short film 'Kerakena Jiwitha' and a popular music video 'Black Male' directed by Amila Nidahasa.