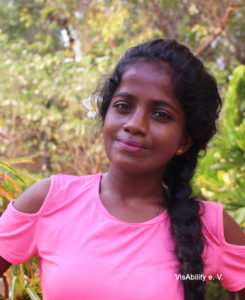 Naleefa Saleen is a Sri Lankan citizen born in 1993. During her childhood in Ratnapura, she became increasingly interested in dance. From 2005 to 2009 she studied traditional dance forms (Kandyan, Low country, and Sabaragamuwa dance) at the Nivithigala Cultural Center. To embark on a career as a professional dancer, she finished a Bachelor of Arts in Performing Arts (University of Colombo) in 2019. She also attended the nATANDA Dance School in Koswatta to deepen her knowledge in contemporary dance. Beyond her artistic training, she holds a Diploma in Counseling Psychology from the Mental Health Foundation.
Naleefa joined VisAbility as a volunteer supporting the dance and logistic department during a project in rural areas in the north and east in March 2019. One year later, she became a staff member supporting the dance and logistic department.
Based on her gained insights, she worked as External Lecturer in Dance – a non-compulsory subject for engineering students at the Faculty of Technology (University of Moratuwa) in 2020. She also helped in the development of the concert 'Sith Ru' for children with special needs organized by the Department of Social Services (Ministry of Social Services).
Since her time as a student, Naleefa has been interested in social work with rural communities. At first, she volunteered in primary schools. Later, she used her knowledge and skills in dance and psychology to help disadvantaged groups, especially during the pandemic. To date, she continues to support rural communities by offering dance workshops for children, youth, and estate workers.