Between June and August 2017, VisAbility executed its new project "Performing Empowerment" at the Eastern University in Batticaloa, and the Nuffield School for the Deaf and Blind in Jaffna.
In both cities, VisAbility held a press conference and invited family members of its workshop participants, the public, journalists, as well as academic and NGO staff to its mixed-abled dance performances in different places. In Batticaloa, the workshop participants did a flash mob in front of the Swamy Vipulananda Institute of Aesthetic Studies of the Eastern University, and performed at Kallady Beach and Chenkalady. In Jaffna, participants did a flash mob in front of the District Secretariat and performed twice in Old Park.
Some of the articles published (in Tamil, translations forthcoming) with several pictures, can be found below. The short video of the conference in Jaffna appears in English.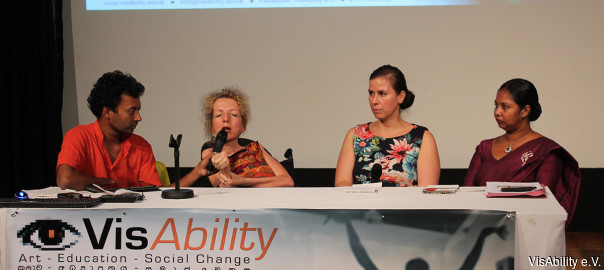 Making
Ability

Visible (2015)

VisAbility launched its project Making Ability Visible in a press conference on the 30 June 2015 in the Goethe Institut in Colombo.

The team was introduced by Björn Ketels, the Head of the Institut, to the journalists. VisAbility presented a video of previous mixed-abled dance pieces by the choreographers Gerda König and Mahesh Umagiliya.

Both pieces were developed with people with and without disabilities in Sri Lanka. The majority of the dancers with disabilities had no prior experiences in this field. The team stressed the power of art as a tool to cause change in people´s mind towards the inclusion of people with disabilities in society as an equally participating member, and the necessity to educate people concerned about their rights to live a life in dignity.

The Sunday Times: The beauty of imperfection (5 July 2015)
The Sunday Leader: Making Ability Visible (5 July 2015)
Media coverage in Anuradhapura
Have a look at our first public performance with participants with and without disabilities of our mixed-abled dance workshop at the bus station in Anuradhapura. අනුරාධපුරයේ පැවති අපගේ ප්‍රථම මිශ්‍රක්ෂමතා නර්තන වැඩමුළුවට සහභාගි වූවන් සමඟ අනුරාධපුර නව බස්නැවතුම් පොළ ඉදිරිපිටදී ඉදිරිපත් කරන ලද කෙටි රඟ දැක්වීම:
Public performance at new bus station – Utv Sri Lanka (9 July 2015) – Part 1
Public performance at new bus station – Utv Sri Lanka (9 July 2015) – Part 2